The 2022 Subaru Love Promise Community Commitment Award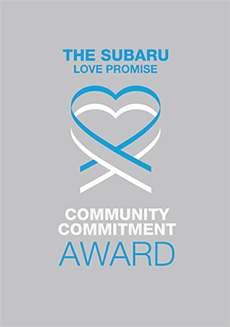 We've been nationally recognized for our dedication to our community and the Subaru Love Promise.
We're honored to receive the 2022 Subaru Love Promise Community Commitment Award. This award nationally recognizes Subaru retailers who are making the world a better place while demonstrating an outstanding commitment to supporting passions and causes in local communities. These efforts are focused in important areas such as the environment, community, health, education, and pets.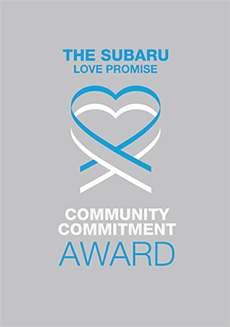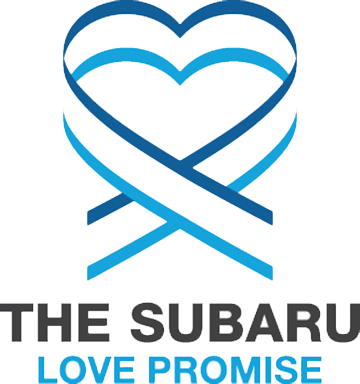 What is the Subaru Love Promise?
Subaru and our retailers believe in making the world a better place and the Subaru Love Promise is our vision of respecting all people. This is our commitment to show love and respect to our customers and to work to make a positive impact in the world.
How is Castle Subaru dedicated locally to the Love Promise?
Castle Subaru strives to support our community positively and be a leader in helping our community. Going above financial donations, our staff proudly contributes their time to volunteer with our charities because it is our passion to make an impact. Our partnership with our Love Promise Community Commitment is the goal to our store culture and driving force to make a difference.
Lake Shore Paws, Hobart Humane Society, Giant Paws
Save the Dunes, Wildlife Habitat Intiative, Chasing Dreams
Aylesworth Elementary, Hobart Middle School, Forest Ridge Academy
Hannah's Hope, Hair for All Foundation, Gabriel's Horn
Franciscan Health, American Heart Association, Methodist Hospital
Love Promise Stories from Castle Subaru
Subaru and Castle Subaru believe in making a positive impact on the communities in which we live and work. We uphold that belief through our Love Promise Community Commitment. Every month, we select inspiring stories from customers and partners from around our area who strive to support our collective commitment and feature them here
IvyTech - PTA Club - Theresa S
The Physical Therapist Assistant Club at IvyTech Community College raised money to help with the upcoming graduates state board exams and to donate to the Marquette Challenge which helps fund research in the field of Physical Therapy. Thanks to Castle Subaru of Portage, their sponsorship made an investment into the community and the students' success!
---
Castle Suburu Event - Molly R
Thank you so much to Castle Suburu for hosting a fundraising and awareness event for our dogs at Lakeshore Paws. Lakeshore PAWS is a mostly volunteer run, nonprofit 501(c)3 animal rescue organization located in Valparaiso, Indiana. We were established in 2011. Our vision is to create a culture of compassion and partnership in Northwest Indiana that will one day assure that every pet born has a stable home and care throughout its natural life. Lakeshore PAWS is dedicated to finding loving homes for abandoned and unwanted pets in Northwest Indiana–one animal at a time–because we believe they deserve it. Our mission would not be possible, without events and fundraising and we are so thankful for Castle Suburu's generous gesture and donation of $1000.
---
Portage K-9 Odin - Cpl R Peele K
Castle Subaru has been such a huge help in supporting the Portage PD K-9 Unit. Castle Subaru originally purchased K-9 Odin to assist the Portage PD and the citizens of Portage. After making the initial purchase of Odin, Castle continues to assist the entire K-9 program with yearly donations. Not only has Castle assisted with the monetary needs of the K-9 program, but they have helped the K-9 unit get to meet and interact with the citizens of Portage which is more valuable than any monetary contributions. The K-9 program has been able to take part in the annual Trunk or Treats and the annual Subaru Loves Pets Events. Castle Subaru is such a help to the Portage PD and the community has a whole!
---
Another great year with Castle Subaru! - Mike M
For many years, Castle Subaru has been a proud sponsor, and this year helped us to raise $27K with Subaru's Share the Love and the whole sales team at the dealership! It's an honor to be one of their fundraising partners, and look forward to their support each year! Their donation helps to provide the us with resources to expand on our critical vision. Recognizing that more children with special needs require developmental equipment for life and education support, we greatly appreciate the Castle Subaru family!
---
Castle Subaru really cares - Kristina J
Every year Castle Subaru hosts a pet adoption in the dealership for the shelter and we appreciate all that they do year after year. But due to Co-Vid this year, they made some changes to do it differently with an virtual pet adoption and sharing our furry friends through Facebook to reach out to many more families in our area. In addition to that, for each adoption that month, they donated a $100 to the shelter. PLUS they held a pet drive for supplies for the shelter! In the store, they also held a Make A Dog's day and invited all of the local pets to the store for some treat and special toys. Thank you for your continued support to the shelter and we look forward to working with you again next year!
---
Thank you again Castle Subaru - Allyson V
Castle Subaru teamed up with the Foodbank of NWI again to help provide holiday meals to our local community. Taking the necessary precautions during the pandemic, Castle Subaru was a proud presenting sponsor in hosting 4 Mobile Markets at the dealership. We are grateful for the whole team and staff as they continue to support us and helping us in loading up the holiday meals in the family's vehicle to make this an easy and safe event! Over 600 meals were provided to local families this holiday season. Thank you Castle Subaru!
---
Foodbank of NWI receives 670lbs in donations - Allyson V
In response to COVID-19, Castle Subaru and Subaru of America were proud partners with Feeding America to deliver 50 million meals to those that need our help. On behalf of Castle Subaru, Subaru of America donated 69,440 meals to our local Northwest Indiana Food Bank. This pandemic is devastating our country and has left hundreds of thousands out of work and unable to feed themselves or their families. The Subaru Loves to Help program gives the team at Castle Subaru the opportunity to give back and help in this crucial time by making this commitment to support our communities. Subaru and the retailers across the country made a donation to provide a total of 50 Million Meals to Feeding America and is available at 199 local food banks near you across the country. In addition, throughout the months of May, June, and July, Castle Subaru held a local food drive as a donation drop off site for the community to help in supporting this partnership. Each person that dropped off a donation received a coupon for $10 towards any service at Castle Subaru as a thank you for their contribution to the Northwest Indiana Food Bank and Feeding America. Furthermore to this initial donation, Castle Subaru provided an 10 additional meals with the purchase of every new Subaru. These donations were honored in the customer's name as a partner to Feeding America. Through the food drive held at Castle Subaru, from their employees and local community, 670 pounds of non-perishable food was donated to the Food bank of NWI located in Merrillville, IN.
---
Castle Subaru + Porter Hospital 06-26-19 - Michelle M
On Wednesday, June 26, 2019, the Illinois Chapter and Castle Subaru had the pleasure of delivering 80 blankets and 50 arts & craft kits to Porter Regional Hospital as part of the Subaru Loves To Care program. These comforting gifts were accompanied by personalized messages of hope written by the customers and staff of Castle Subaru. Castle Subaru's Jay and Ricky were on site and loved getting to be a part of something bigger than themselves. Their passion for the way Subaru as a company gives back shined through. They look forward to continue to be involved with The Leukemia & Lymphoma Society's Illinois chapter. This incredible act of generosity was warmly received by the Porter Regional Hospital staff who were thrilled to distribute these comforting gifts to their patients. The hospital staff mentioned how patients who go through chemo and wait for tests to be conducted will be so thankful for these nice blankets to keep them warm through trying times. LLS is proud to partner with Subaru to spread hope, love and warmth to those fighting cancer, across the country and right here in the Northwest Indiana community.
---
Castle Subaru Loves to Care! - Sue W
If there were ever a pair of individuals who embody what "Subaru Loves to Care" means, it would be Ricky Cernak and Bradley Cowin from CastleSubaru in Portage, Indiana. On the visit, they made to Woodland Cancer Care Center of Franciscan St, Anthony Health - Michigan City, that very day they spread love, hope and warmth to people receiving treatment on site. Woodland Cancer Care Center is an award-winning state-of-the-art center combining the latest equipment and expertise with compassionate care. Designed to promote physical, emotional, social, mental and spiritual health, they provide a trilogy of primary cancer care services, all in one location. Opened in 2012, the center provides radiation oncology, medical oncology, outpatient infusion with world-class services and a world-class staff. When Ricky and Brad visited, they brought blankets, bags, and arts and crafts kits for kids. Woodland Cancer Center Director, Aundrea Siebert, greeted this giftswarmly. While this is a state-of-the-art facility, many of their cancer patients have challenges being able to pay for their care, transportation, child care, let alone any extras. The bags saved the center from having to place an order for much-needed bags to provide patients with something hold their diagnosis information or the items they bring back and forth treatment. Social worker Stephanie Nehl explained how the patients get cold, and the blankets would be so useful for the patients both during infusion and at home. And though Woodland serves only adults, quite often children need to be occupied while waiting for parents or grandparents who are going through treatment. That was all Ricky and Brad needed to hear. They immediately began to talk to people in the waiting room in a personal caring manner – they talked to Nora, who was waiting for her husband, John. They were celebrating their 53rd wedding anniversary the followingFriday. After commenting on John's USMC tattoo – as well as the "Nora" tattoo, Ricky shared that he is getting married in October, and John and Nora offered some tips of success for a long-lasting marriage and wished him the same happy life. Next, they went to Kaitlyn who was waiting with her mom and her aunt for her grandmother to complete treatment. Kaitlyn was glad to receive the arts &crafts kit – and her aunt was thrilled to be able to display everything in it! In the infusion suites, Ricky and Brad spoke with each patient that was open to it in a kind and personal way, always being respectful of the individual's feelings. There was fist bumping over the Cubs, wishes of good health to a gentleman on his second diagnosis of multiple myeloma, and the Castle Subaru representatives took the time to personally cover Mary with her new blanket because she was shivering from treatment – and she was as thankful as possible. On the way out, they stopped and chatted with another young man, and shared arts & crafts in with him as well and wished him well as he waited for his mom. When it was time to go, Ricky and Brad took all the boxes into a storage area and broke down the tables for the center. Every step, every conversation, every single interaction was focused on their pride in what Subaru does and what Castle does within the community. The kindness and sincerity were apparent to all as Aundrea stopped them at the end and said "I am a Jeep owner. But because of this, because of what you did today, I will be a Subaru owner next. You have no idea what this means to our patients and to our center. You are wonderful. You have made a difference in lives today." Subaru Loves to Care, as do Ricky and Brad from CastleSubaru on Portage Indiana.
---
Castle Subaru / Methodist Hospital - Kate K
Castle Subaru chose Methodist Hospital again this year as the hospital they wanted to deliver the donated blankets and craft kits to. Cindy at Castle has been with the company for a long time and it was great to hear how charitable Subaru is and how they "walk the walk" when it comes to giving back. Methodist Hospital was chosen by 2 different Subaru dealerships for the Love to Care program, so that says a lot about what a great facility Methodist is. It was an honor to be a part of these deliveries.
---