Castle Subaru Cares - Our Subaru Share the Love Commitment
The team at Castle Subaru takes collective pride in our community efforts, always committed to helping make a difference in the lives of those in need through donations, sponsorships and direct involvement in local events and causes. A main source of our activity is through Subaru Share the Love program participation, with a profound impact that you will soon learn more about.
Through Subaru Share the Love, Subaru donates $200 from every sale of a vehicle at our dealership to an organization of our choice. When adding up these numbers, meaningful change and improvement in the lives of deserving community members is strongly felt and experienced. We recently presented our specific organization choice, Hannah's Hope, with a contribution to support their noble cause.
Proud to Present $20,000 for Hannah's Hope Initiatives
This $20,000 check to Hannah's Hope helps provide the organization with resources to expand on their critical vision. Recognizing that more children with special needs require developmental equipment for life and education support, this group supplies these expensive resources while also focusing on connecting the outside community to the lives of these respective families.
Our team is proud to support such an inspiring mission, and look forward to working more with Hannah's Hope in the future. Learn more about Castle Subaru's direct community involvement and the Subaru Loves to Care initiatives by reaching out today. We encourage you to call or stop over and discuss the ways that you can get involved on this important journey, as we can collectively support our local communities and the organizations working hard every day to make a difference.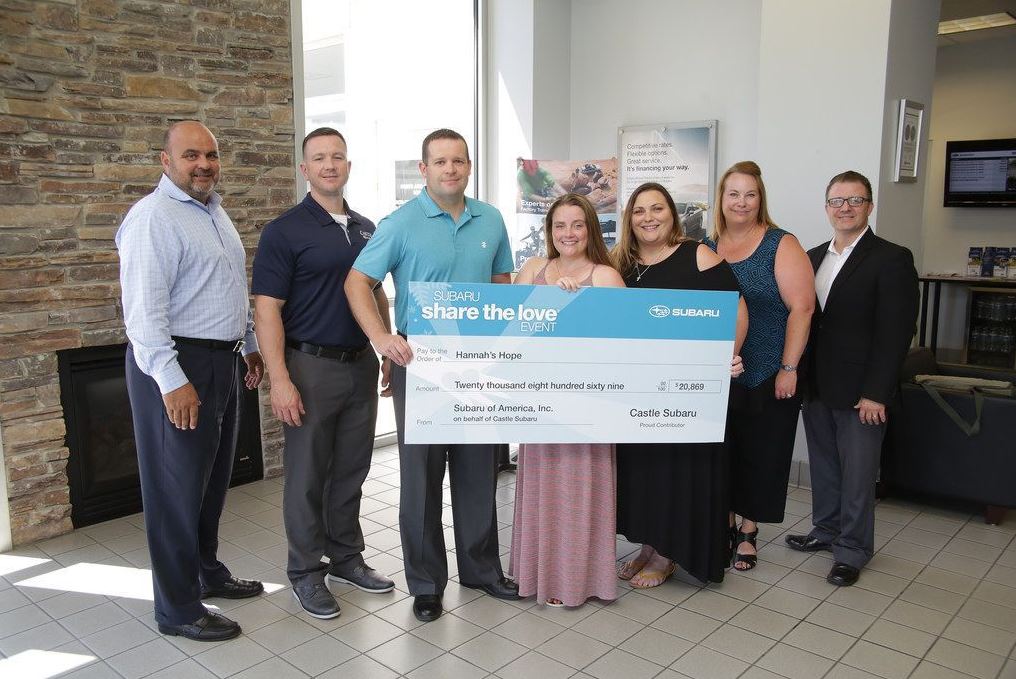 At Castle Subaru, We Love Pets!
At Castle Subaru we are dedicated to not only taking care of you but your family members as well and that includes your pets. We are proud to donate a portion of our sales to Open Arms Animals Rescue whose mission is to help homeless, abandoned animals and to advocate for animals everywhere.
Our team at Castle Subaru is proud to be able to contribute to helping animals in need everywhere. We know there are so many furry friends looking for a home to be loved in. We are honored we can contribute to such an important cause. To learn about Castle Subaru's contribution to the community and Open Arms Animal Rescue contribution we encourage you to reach out today. If you or someone you know is looking to adopt a pet contact us to see how you can get involved today.
Hours
Monday

8:30 AM - 8:00 PM

Tuesday

8:30 AM - 8:00 PM

Wednesday

8:30 AM - 8:00 PM

Thursday

8:30 AM - 8:00 PM

Friday

8:30 AM - 6:00 PM

Saturday

8:30 AM - 6:00 PM

Sunday

Closed
Directions
Get Directions