Subaru Service Center in Portage IN
Help Your Car Perform Like New with the Castle Subaru Service Department, Proudly Serving Portage, Valparaiso, Hammond, Gary and Chesterton, IN
Like anything else you own, your car will perform better when it's properly cared for. An essential part of taking care of your Subaru: routine maintenance. Keeping up with the service schedule in your owner's manual ensures your Subaru Outback, Forester, Crosstrek, Legacy or Impreza will run efficiently and safely.
Because so much work goes into caring for your car, Castle Subaru maintains an onsite auto service and repair department, staffed with mechanics that are trained to know Subaru models, specifically. They're also equipped with the same Subaru parts that are used to assemble your car, meaning you can count on like-new performance when you drive your car home.
As for what we can do for your car: that's up to you. Simply fill out our online appointment form to let us know what your car needs. Whether you're looking for something simple like an oil change or you need us to inspect your brakes, we're ready to help you get the most out of your Subaru car.
Express Service No Appointment Needed
At Castle Subaru of Portage, we know that your time is precious and that you don't always have time to schedule a service appointment. So if you need the necessary services now or you have been waiting to get an oil change we encourage you to visit Castle Subaru of Portage's Express Service Center at 5020 US-6 in Portage, Indiana. Our dedicated team works with you and your busy schedule to provide you with the best service to your Subaru.
Learn More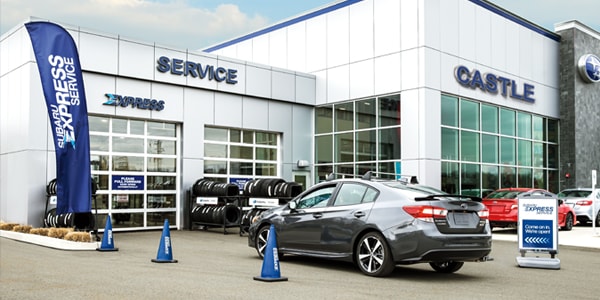 Factory Trained Subaru Service Department
We always want you to feel confident about who works on your Subaru whenever you bring it in to our Service Department. The technicians in our Service Department are Factory Trained and have earned certifications through training programs that have been developed by Subaru of America, Inc. Through these programs, our Factory Trained Subaru technicians have learned how to properly diagnose and provide services that may be unique and particular to Subaru vehicles. This results in the performance and safety that you are looking for when you come through our Castle Subaru Service Department.
Why Subaru Service
Roadside Assistance
Subaru Roadside Assistance is free and comes standard on every Subaru model year from 2000 forward. Fortunately, coverage is applied automatically and you do not need to complete any forms.
Subaru Roadside Assistance Includes:
Towing to the nearest authorized Subaru retailer if you cannot safely drive your vehicle.
Jump-start if your battery is dead
Gasoline delivery if you run out of gas
Flat tire change to install your spare
Emergency lockout service
National Subaru retailer locator service, with phone numbers and location of the nearest retailer anywhere in the U.S. or Canada